Welcome To Krishi Vigyan Kendra, Beed-I
The KVK has excelled in bringing the modern technological packages at the farmers doorstep with the help of various instructional units.The KVK today has sufficient resources to impart training skills for not only the farmers but also the rural youth. The training schedule typically incorporates the existing needs and problems of the farmers for making a positive impact. The trainings are conducted both at the on-campus and off-campus locations. It invariably emphasizes on providing both the short term as well as long durational courses specifically to impart practical orientation to these courses.
"The KVK has been doing tremendous work for this farmers in remote villages. The innovations being pursued in this area of sericulture, integrated farming, drip irrigation, raised bed & transfer of economic activities with support of KVK Beed will bring prosperity in the area . I wish all the success to the team KVK. Diagnostics & Bio based fertilizers need further strengthening"
"The Demonstration unit at KVK, Ambajogai was visited and found very informative and educative focus being given on Skill development, is appreciable. The campus is very neat and clean. Initiation taken for doubling farmers income through diversification like Sericulture, rose cultivation, pulses and other crops, raising by using resource conservation technologies are again intensifying"
Aims & Objectives of Host Institute
To increasing the yield of crop, milk fruits and vegetables of farmers up to 25-30% with available natural resources.
Training of Rural youths for income generation through various activities.
Emphasis on sustainable agriculture (Organic Agriculture)
Subsistence forming through 1, 1.5 and 2.5 acre model as a profitable one.
Preparation of village wise soil health card of adopted villages.
To increase socio-economic status of the farmers through front line demonstrations.
To increase the productivity of live stocks through breed improvement.
Women empowerment through various activities.
Mandates & Activities of KVK
The mandate of KVK is Technology Assessment and Demonstration for its Application and Capacity Development.
---
To implement the mandate effectively, the following activities are envisaged for each KVK.
On-farm testing to assess the location specificity of agricultural technologies under various farming systems.
Frontline demonstrations to establish production potential of technologies on the farmers' fields.
Capacity development of farmers and extension personnel to update their knowledge and skills on modern agricultural technologies.
To work as Knowledge and Resource Centre of agricultural technologies for supporting initiatives of public, private and voluntary sector in improving the agricultural economy of the district.
Provide farm advisories using ICT and other media means on varied subjects of interest to farmers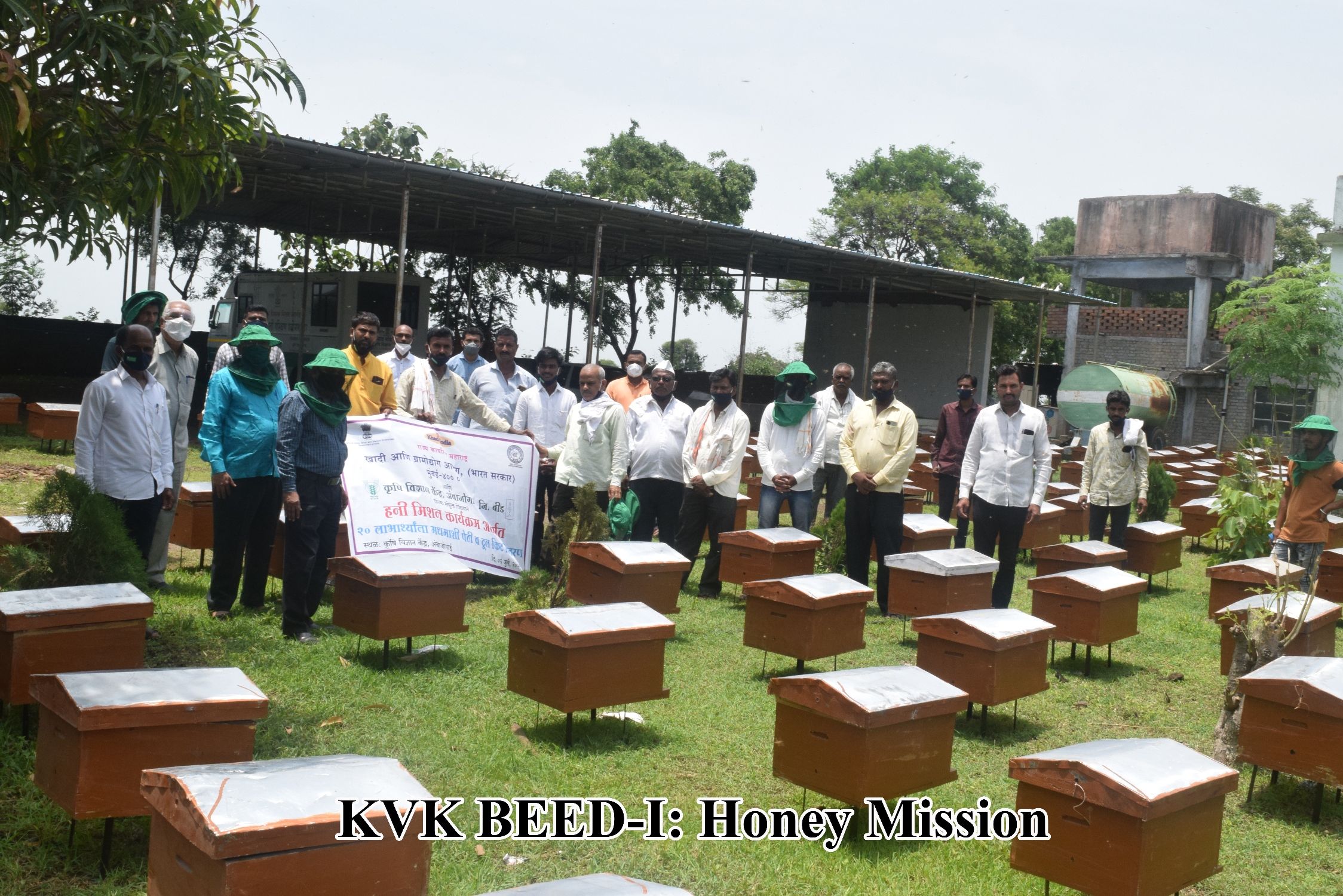 Farmers Participated : 100
Dr. Vijay Bhatkar visited KVK Stall
Farmers Participated : 1200
FRONT LINE DEMONSTRATIONS