Women play a critical and potentially transformative role in agricultural growth in developing countries, but they face persistent obstacles and economic constraints limiting further inclusion in agriculture Women make important contributions to the agricultural and rural economies of all regions of the India. However, the exact contribution both in terms of magnitude and of its nature is often difficult to assess and shows a high degree of variation across countries and regions.
Women Empowerment through training programmes
One month training program on "Entrepreneurship Development through beautician course for rural youth" was organized in which 21 girls participated. Out of 21, 07 girls have started their beauty parlour at home level and 01 girl has started her beauty parlour in city. By this vocational training girls have started earning monthly income of around Rs.1000-1500 per month. However during marriage seasons this income drastically increases to Rs. 10,000-15,000/-.
Two days training program on the topic "Entrepreneurship Development through Jwellery and handicraft material for rural youth" was organized in which 24 adolescent ent girls participated. The local event management group had hired them and placed the order of different type of artificial jwelleries and handicraft material. The every beneficiary is earning Rs. 2000-2500/month.
One day training program on the topic "Use and maintenance of papad rolling machine" was organized in which 20 women participated. Initially women were making papad by hand and their production capacity was very less i.e. around 8-10 Kg per day and monthly income was only Rs.12,000/- per month. The KVK has divided these 20 women in two groups (10 women in each group) and handed over two papad rolling machines. Now each group is able to prepare 35 Kg papad per day and in a month each group is earning Rs 42,000/- and they are taking good care of their families.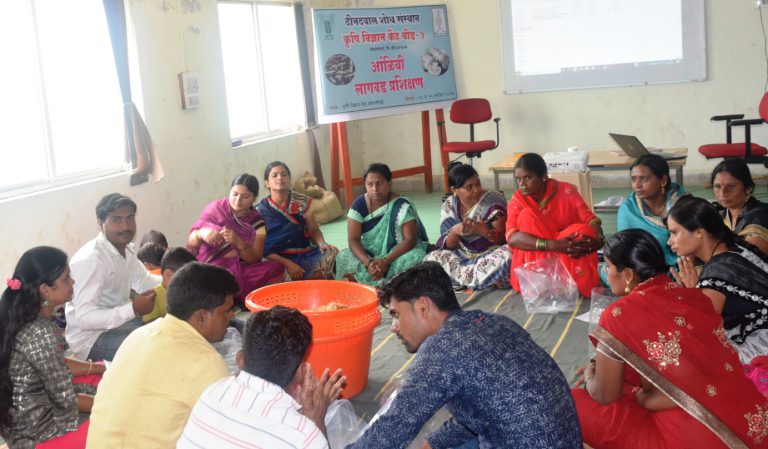 Two days training program on the topic "Mushroom cultivation for Rural Youth" was organized in which 2 self help groups of 20 women each participated. In this training all the practical aspect were covered by the trainer and these groups have been also linked with local market.
E-literacy is defined as "the ability to use digital technology, communication tools or networks to locate, evaluate and create information and to perform the tasks effectively in a digital environment. KVK has organized one month training program on e-literacy for 25 school going children to make aware them about the computer, Internet and other digital technologies like digitally money transfer etc. 
Training program on "Mango by products making" was organized for the self  help group of 24 women. The preparation of different types of mango bi-products like mango jam, jelly, mango chocklet making on industrial level was taught. This self help group was also linked with local market.
Training programme on "Soybean by products making" was organized for the one self help group of 12 women. In which different types of soybean by products like Soya badi, Soya Chuda, Soya laddo, Soya Paneer, Soya milk was taught. This training specially meant for to increase nutritional status in family members. 
Training programme on "Nigerseed biproducts" was organized  for the one self help group of 12 women. In which different types of Nigerseed biproducts like Nigerseed Laddo, Niger seed shev, Chakli, were taught. This training was specially meant to overcome the iron deficiency.  
Women empowerment t through Drudgery reduction
Women are bearing the brunt of longer hours of work. Women's involvement with more drudgery inducing, time consuming activities have led to gender role stereotyping of such tasks, which further subjects women to longer work hours with lesser output and more misery. We may call this as "feminization of drudgery". The KVK has tried to reduce the drudgery by disseminating ICAR & SAUs technologies released from time to time to make women comfortable.
The KVK has conducted 100 demo. of soybean mitten use for drudgery reduction at the time of harvesting. The soybean harvesting process is cumbersome and there are chance of physical injuries to women labourers. The open handed harvesting is time consuming and laborious process. The use of soybean mitten had reduced time which reduced the no. of laborers requires per ha. There were no physical injuries. As a results more than 160  women laborers are using soybean mitten.
Traditional method of water transporting is not only time consuming but creates health problems also. It is high drudgery prone activity. To reduce these problem 35 demonstrations were conducted on water wheel used for water delivery system. Results showed that technology is beneficial for the farm women because it helps to reduce not only time but it can reduce no. Of trips and persons involved in transporting the water. As a result it was found that in comparison to traditional methods no. Of trips could be reduced from 18 to 07 only, time consumption remained 45 minutes and involvement of persons was only 01 in comparison to traditional method. This data was recorded for transporting of 300 lit water from 1 km distance. 
Gravity Separator : Mechanical Method of Soybean grading
Grading of Soybean containing dust particles, broken, undersized grains is very difficult and drudgery prone also. To overcome this problem, gravity separator has been introduced to the farm women. With this implement, efficiency of grading has been increased. In traditional method women could grade only 30-35 kg/hrs but with this separator she could grade 100-135 kg/hrs of soybean.
Healthy lifestyle and high intake of nutritious food can provide good health throughout life to the humans. The poor nutrition and unawareness on the utilization of health facilities during their childhood and reproductive age are the major factors responsible for the high maternal mortality. To create the awareness among the rural people especially farm women KVK has started diet counseling center in which home scientist of KVK create awareness about diseases and their remedies with locally available food ingredients.
Disease

Diet

Exercise

Diabetes

Fenugreek seed-High Fiber,

Rajmah-Low glycemic index

45 min brisk walk

Hypertension

Low salt, Curry Leaves, Garlic

45 min brisk walk & Pranayam

Thyroid

Lodized salt, vegetable & fruits

Pranayam

Anemia

Cauliflower leaves powder @ 2 gm/day

Niger seed @ 10 gm/day

Surya Namaskar